Is it Teacher Appreciation time at your kid's school? Are you as unprepared as I am? I raided my gift stash for gifts for his current teachers, but since my son is in the same daycare he's been in since he was 6 months old, there are a lot of teachers we want to show our appreciation for (ten to be exact – yikes!). Even I don't have that impressive of a gift stash. And the deadline to leave gifts was today! So running to the store last night wasn't ideal.
I had to find some little gifts for his previous teachers pronto. I had some Dove chocolate eggs on hand (more on that next week). Who doesn't love chocolate, right? But how to make them into a cute presentation?
I thought about making my own treat bag, but had a tough time figuring out would I make it expandable to allow for the bulkiness of the eggs. Then I remembered my stash of kraft lunch bags. These have gussets on the side so they can expand. I was still limited by size since the collection bags set out at the school were pretty small. And honestly, I only had 2 bags of chocolate eggs to go around to 8 teachers! So I decided to trim down the bags.
I used a
scalloped blade
on my paper cutter to cut off the bottom half of the bag where the rectangle base is. You can also use fancy edge scissors, pinking shears, or regular scissors and a shaped border punch. Then I sewed a basic white stitch with my sewing machine on the bottom to close the bag.
By the way, I should note I was doing this around bedtime last night, so forgive the lack of daylight in my photos!
I'm a scrapbooker in addition to general crafter so I have random things stashed around the house to use for a project like this. My set of
clear Thank You stamps from Fiskars
caught my eye.
Have you seen all the subway art around blog world lately? I decided to make my own on an acrylic block with the stamps above.
Inked it up and stamped it on the bag above the sewn edge.
Filled the bags with some of the eggs.
I thought about sewing it closed, but I ran out of bobbin thread. And I'll be honest - I'm lazy when it comes to filling my bobbin. (I know, G would be shocked if she heard this pathetic sewing confession.) It was my little one's bedtime and with the sewing machine in the room next to his, I just didn't have time to deal with it without making noise and keeping him awake. So I cut the same scallop on the top and grabbed some cute colored binder clips to close them.
Ten Teacher gifts in ten minutes? CHECK! Cute, easy, and entirely made with stuff I had on hand.
PHEW! Avoided that emergency! By the way, apparently Teacher Appreciation Week is May 2-6. No idea why my son's school decided to instead celebrate this week, but maybe you can benefit from my lack of planning and odd school schedule and make your own! These would also be simple favors or thank you gifts to neighbors and friends any time of year. Fill them with home baked goods for an even sweeter treat!
Are you doing special Teacher Appreciation gifts?
UPDATED: I also made tags for the gifts for his current teachers with the stamp - just stamped it on a mailing tag and attached it to the gift!
Linking to: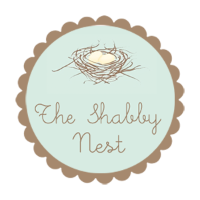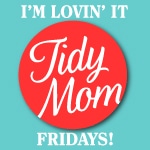 >